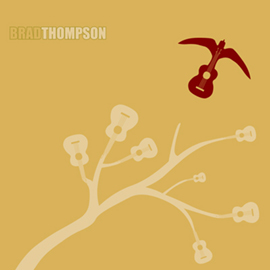 Brad Thompson by Brad Thompson CD
His first studio record since 1997. The CD is a scaled down, soulful collection of songs masterfully
delivered in the unique acoustic style in which Brad Thompson has built his solid Texas reputation.
Engineered and produced by Mike Daane at his home studio in Dallas, TX. Boy, we really did a fine job this time.
Only two of the tracks are full band and the rest of the songs are very stripped-down, wonderfully personal recordings.
I owe a lot to Kevin Grove, Rich Stitzel, Joey Carter and Aden Bubeck for coming in, seeing the vision and playing such beautiful parts.
Man, these songs groove – it's nice.
Personnel:
Kevin Grove – dobro, classical and electric guitar
Aden Bubeck – electric and upright bass
Joey Carter – percussion, organ
Paul Metzger -electric guitar
Jeff Howe – drums
Rich Stitzel – percussion
Don Cento – acoustic guitar
Mike Daane – engineer